More details are coming out about Priyanka Chopra's fabulous wedding dresses she wore this weekend in India during her nuptials to Nick Jonas.
The sheer gown was worn over a strapless column dress made up of over two million mother of pearl sequins.
The Bollywood beauty, 36, wore a custom Ralph Lauren gown for her Christian wedding ceremony that took 1,826 hours to embroider by hand, according to People. The look was topped off by a 75-foot-long tulle veil.
Chopra's makeup artist Yumi Mori shared via Instagram the exact products she used to create the bride's soft, gorgeous look.
Priyanka Chopra's wedding dress was certainly a show-stopper - but there was also more than meets the eye. Prior to the Hindu wedding ceremony, Priyanka and Nick had traditional mehendi and sangeet functions.
The couple had the sweetest messages in their Ralph Lauren designs.
"I love that our wedding was a religious mash-up", Chopra told People.com. When Nick suggested they honor both their cultures with a Western wedding ceremony, as well as a traditional Indian ceremony, her vision all started to come together.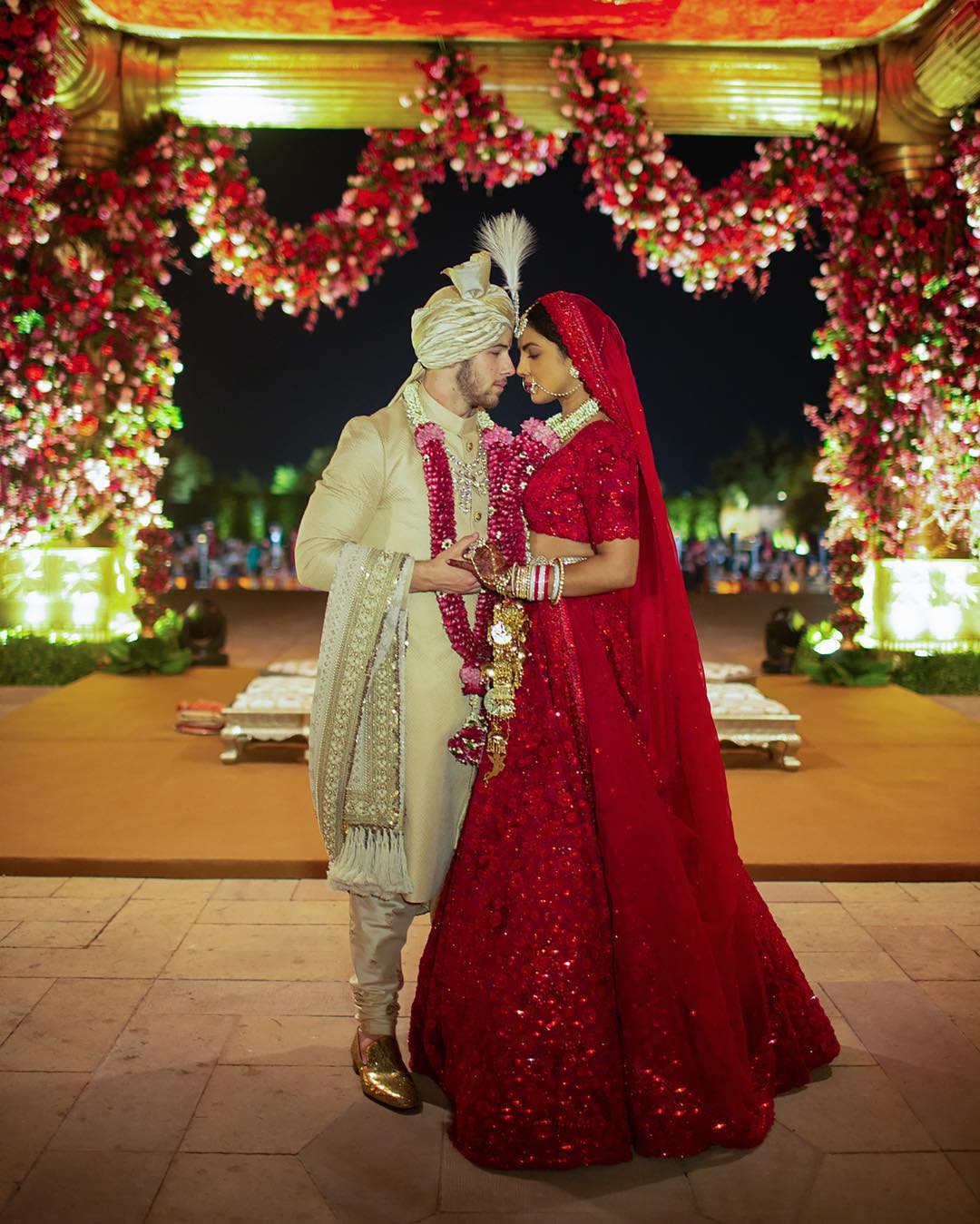 PETA India accuses Priyanka Chopra, Nick Jonas of animal cruelty, slams newlyweds for using elephants, horses at wedding
As for Nick, "the emotions were running high during the ceremonies", especially during the Western wedding.
Chopra wore a pair that was a collaboration between Christian Louboutin and Sabyasachi. Tonight, they are hosting their Delhi reception for their family and close friends.
If you think this cultural clash sounds like it would be ripe for some good-natured fun, you're be right.
Famous guests at their wedding included Nick's brother Joe Jonas and his fiancee, British actress and "Game of Thrones" star Sophie Turner.
Another pre-wedding ritual, the Sangeet is a musical evening where the uniting families perform song and dance. Looks like Priyanka and Nick did the same, although they may have also have been part of the deal that Vogue had with Google Pixel for their digital covers and those videos.
To read the full exclusive interview with the bride and groom and view their stunning wedding album, make sure you don't miss out on next week's HELLO! magazine issue, out 10 December.