The company recalled 91,388 pounds of its raw ground turkey products after the United States Department of Agriculture's (USDA) Food Saftey and Inspection Service (FSIS) found that a sample of the products tested positive for a salmonella reading matching the outbreak strain.
Jennie-O stressed in a statement emailed to NPR that its voluntary recall, announced Thursday, is limited to ground turkey from "one production line from a single day's production". 7 percent FAT with "use by" dates 10/01/2018 and 10/02/2018.
Jennie-O Italian seasoned ground turkey (all with "use by" dates of October 2, 2018). "15% FAT" with a "Use by" date of 10/02/2018.
There has only been one case of salmonella linked to Jennie-O turkey. These items were shipped to retail locations nationwide. It's the first brand to be named in the yearlong outbreak investigation that has sickened more than 160 people in 35 states.
The strain is present in live turkeys as well as numerous raw turkey products, including food for humans and pets, which the CDC notes could mean the strain is widespread throughout the entire turkey industry.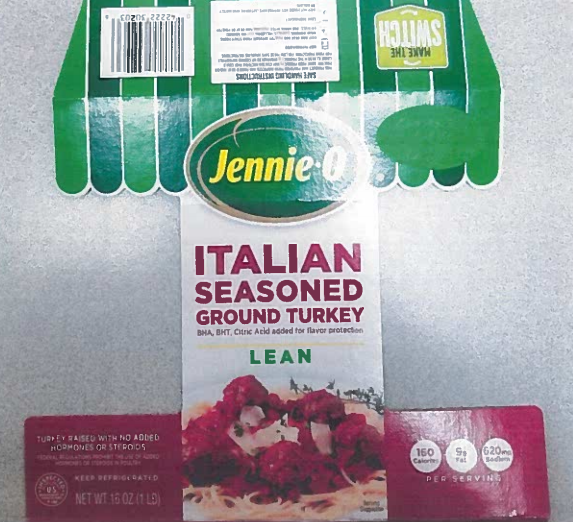 Jennie-O recalling 90000 pounds of ground turkey due to salmonella risk
As the investigation continues health officials are surveying everyone who became infected to get a better idea of what they ate, when and where they purchased the turkey. But while you're making plans to whip up the most impressive turkey dish you can muster, remember that the Centers for Disease Control and Prevention are still working on a almost year-long investigation into a turkey salmonella outbreak that has already claimed at least one life and left over 150 sick. You're asked to check your freezer and see if it matches any of the above dates. Instead, the USDA says consumers should throw it away or return it to the place of purchase.
Symptoms of salmonella infection include fever, diarrhea and stomach cramps, and they usually last four to seven days. One person in California has died, and 63 people have been hospitalized.
Most people recover without treatment. Those with questions can call Jennie-O at 1-800-621-3505, 9 a.m.to 5 p.m., Eastern time, Monday through Friday, and 10 a.m.to 6 p.m., Eastern time, Saturday and Sunday.
Class I This is a health hazard situation where there is a reasonable probability that the use of the product will cause serious, adverse health consequences or death.