It's another day of protests along Israel's border with Gaza rocking the region.
During these protests, dozens of Palestinians have been killed and thousands others wounded as Israeli forces continue to suppress the demonstrations.
Numerous demonstrators are blaming the violence on the United States.
Notably, Kenya was among 21 countries that failed to vote at the UN General Assembly in a resolution aimed at condemning Washington's recognition of Jerusalem as Israel's capital.
Deputy Ambassador Michael Baror said they were sorry for the loss of lives, and added that their problem is with the regime, not Palestinians.
"They had clear instructions to bring a weapon - a knife or a gun - and force their way across the border, not use them unless there was need to capture Israeli soldiers and residents", Baror said. "It's really an unfortunate incident now that we have people killed, but they were not supposed to be killed ... if relevant United Nations resolutions were followed", Nandi-Ndaitwah noted.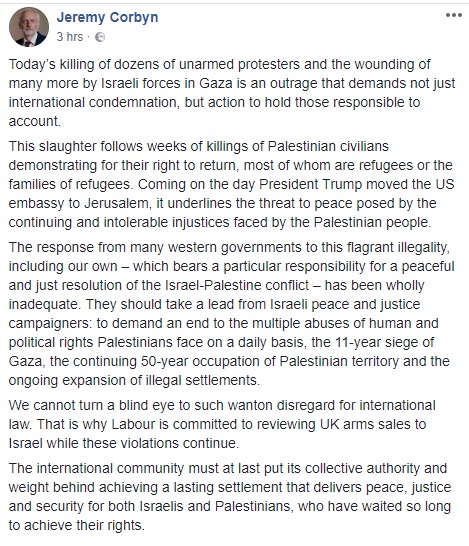 Anti-Semite UK Labour party leader Jeremy Corbyn slams Israel
"The blood of innocent Palestinians is on the hands of the United States", he said. She said Namibia reiterates its longstanding position that Jerusalem remains the internationally recognised capital of the two states.
"We must collectively call on all to refrain from unilateral measures that only steer us away from a peace process and instead work to end the occupation and advance the goal of a just and sustainable peace, culminating ultimately in two states, Israel and Palestine, . living side by side in peace, security and prosperity", said Mladenov. On Tuesday, the ministry made a similar call to Israel's ambassador to Ankara.
"We will consider the issues that have been raised in relation to a possible review, either all together or to some limited extent, of visa requirements in relation to a state of Israel as well as issues of people holding dual citizenship who fight in wars that South Africa regards as unjust".
The US and Guatemalan moves break with decades of worldwide consensus. Therefore, she maintained, the decision to move the USA embassy from Tel Aviv to Jerusalem put in serious jeopardy the two-state solution.
The United Nations General Assembly rejected by a huge majority the US recognition of Jerusalem as Israel's capital.